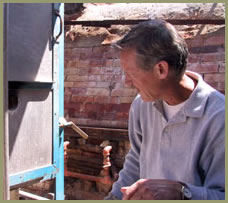 Dane Venaas is an artist-craftsman who has been completely involved with ceramics for the past 30 years. Following studies in Engineering and Anthropology at the University of California, Santa Barbara, he took to ceramic art with a passion.
Dane established a new Pottery program for UCSB Living Arts where he continues to give instruction and to experiment and grow as an artist.
His current work centers around functional vessels for the home, including dinnerware, unique vases and handmade sinks. He exhibits his work throughout California, and his pieces are in private collections across the United States.
Dane's glazes reflect a sense of movement, depth and color related to abstract expressionism. Each piece is different, yet connects to a common theme.